© Getty Images
Artistic Hair Accessories for Fun and Style
When nature displays her best colours what could be more natural than imitating her brilliant colour play in fashion, hairstyles, and accessories. Artistic, sparkling and colourful hair accessories and jewellery make this easy. Eye-catching Alice bands and bandanas, pearls, and romantic flower tendrils are only part of your arsenal. We hope our hairstyles with accessories and jewellery delight and inspire you
Dainty Alice bands, colourful hair scarfs or hair jewellery fresh from the florist bring sparkle and artistry to this year's summer hairstyles. Now you can allow your artistic spirit free reign to your heart's desire and not only for festivals. Create your most colourful, romantic, wildest, and most artistic hair accessories and enjoy the smiles around you!
Hair Accessories and Jewellery: The Alice Band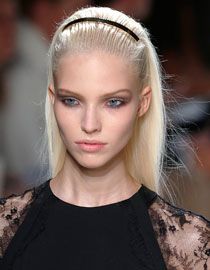 Alice bands can be part of any hairstyle whether your hair is long or short. Stylish Alice bands lend spark to hairstyles from open hair to updos and from sleek to undone. Use them to create specific elegant, romantic or playful styles. 
Creating Volume: Simply tease your hair on the crown and in the top back of your head.
Left: The models in the Elie Saab fashion show in Paris held their long hair back with thin Alice bands
Hair Accessories: The Head Scarf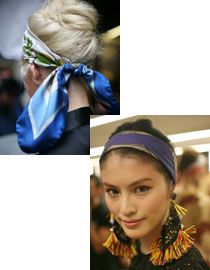 Head scarfs are all the rage this summer. They are not only eye-catching but can also be used to protect hair from UV rays.
Wear a bandana, wrap your head into a turban or knot your head scarf retro style. There is no limit to your creativity.
Left: Backstage, models of the Dolce & Gabbana fashion show demonstrated how to wear a head scarf
Hair Accessories and Jewellery Exotic Style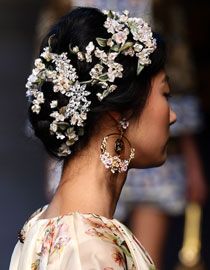 Alice bands, bandanas, and head scarfs are head-turning hair accessories. Step it up a notch to create filigree adornments, weave flower tendrils into your hair or use sparkling hair slides for style and glamour.
Left: During the Milan Fashion Week, Dolce & Gabbana models turned heads wearing updos with elaborate hair accessories
In his video, Schwarzkopf hair expert Armin Morbach shows how to style updos with hair accessories.
Video: Styling Updos with Hair Accessories
Hair accessories are also popular with stars and celebrities. In our gallery, we show dazzling summer hairstyles with creative accessories or jewellery.
Gallery: Hair Accessories and Jewellery