© Getty Images
Hairstyles at the 2014 Eurovision Song Contest
This year, Austria's controversial transvestite Conchita Wurst won first prize at the Eurovision Song Contest in Copenhagen. Without doubt, her style did not go unnoticed. Almost as exciting were the other participants' styles. We selected a few exceptional stylings and provide you with instructions
Europeans did not only follow the Eurovision Song Contest with keen interest but also showed their tolerance. Drag queen Conchita Wurst (born as Thomas Neuwirth in Austria) won the contest with her song 'Rise like a Phoenix'. Her Travesty Show made a strong point against oppression.
The Style of Eurovision Song Contest Winner Conchita Wurst
Conchita Wurst created excitement with her decidedly different appearance. Her long dark mane was perfectly groomed and her eyelashes were long. This and her glamorous gown might have created the look of a modern diva if it had not been for the full beard.
Interesting Facts and Exceptional Hairstyles at the 2014 Eurovision Song Contest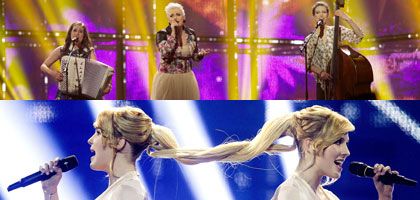 Despite the terrific style of the German band Elaiza, the judges at the Eurovision Song Contest only awarded 39 points to the performance of their song 'Is it Right?' This put Germany on place 18 in the rankings.
The somewhat droll act of the Russian Tolmachevy Sisters was good enough to land them on place seven. The sisters' connected fake ponytails were part of their conjoined-twin act.
The other female performers remained conservative in their hairstyle choices. Still, their long beach waves, glamorous retro waves and undone hairstyles were eye-catching enough for the stage. The hairstyle choices of the male singers were a little more expressive with Iroquois haircuts or wild rock-style manes and moustaches (here demonstrated by the members of the TwinTwin band).
We hope you enjoy our gallery of ESC hairstyles, which we found particularly fascinating. Styling tips are included.
Gallery: Fascinating Hairstyles at the 2014 Eurovision Song Contest